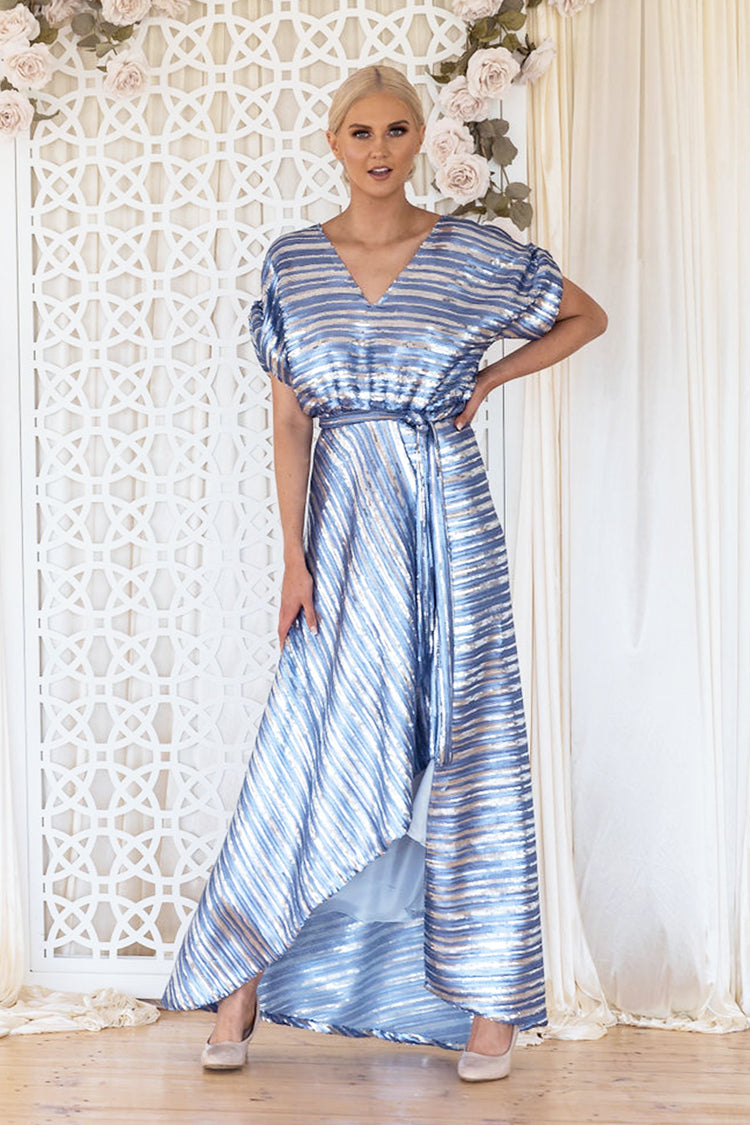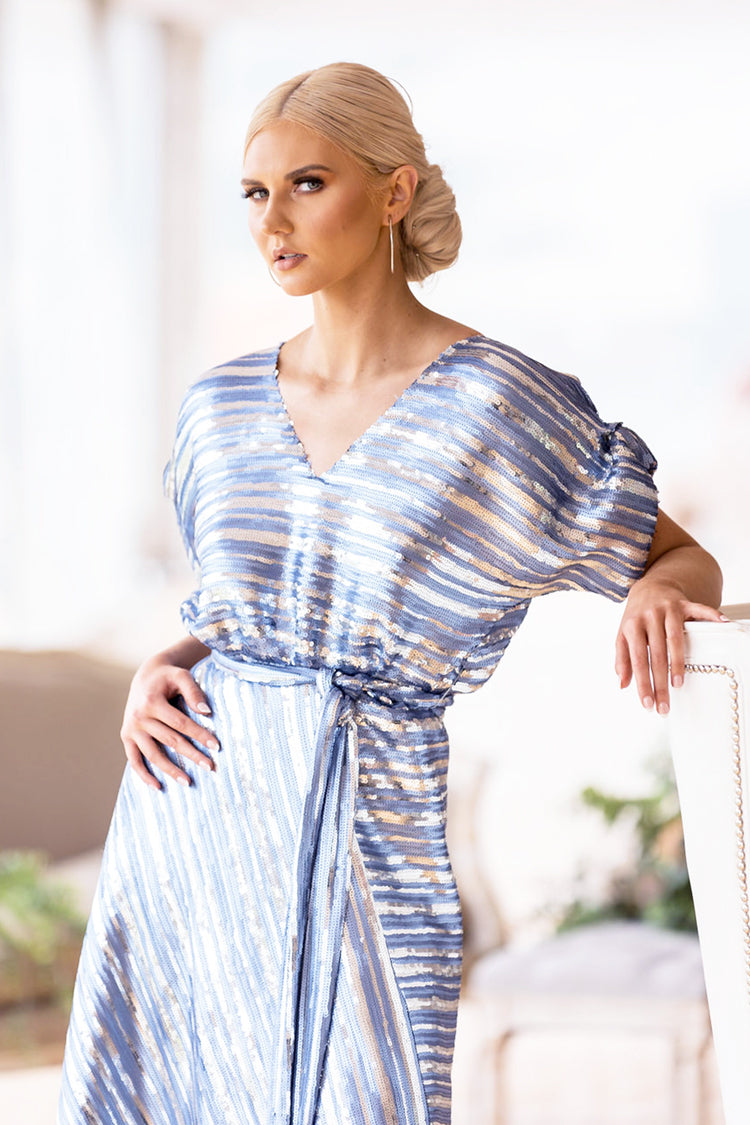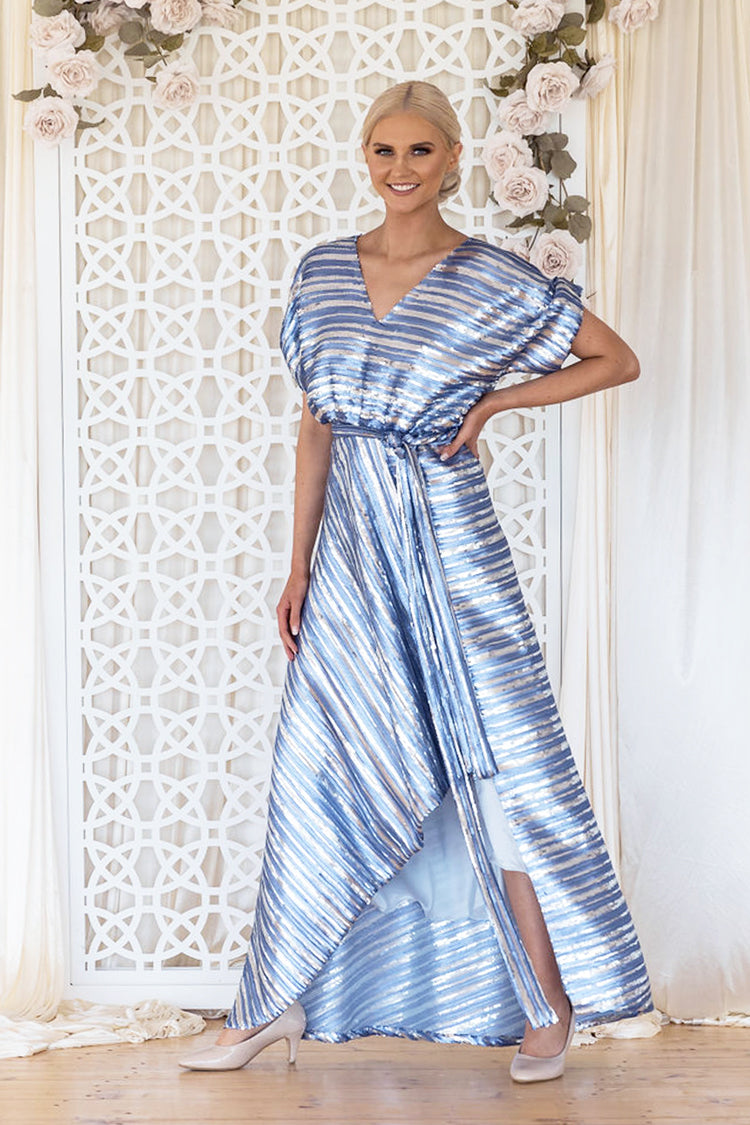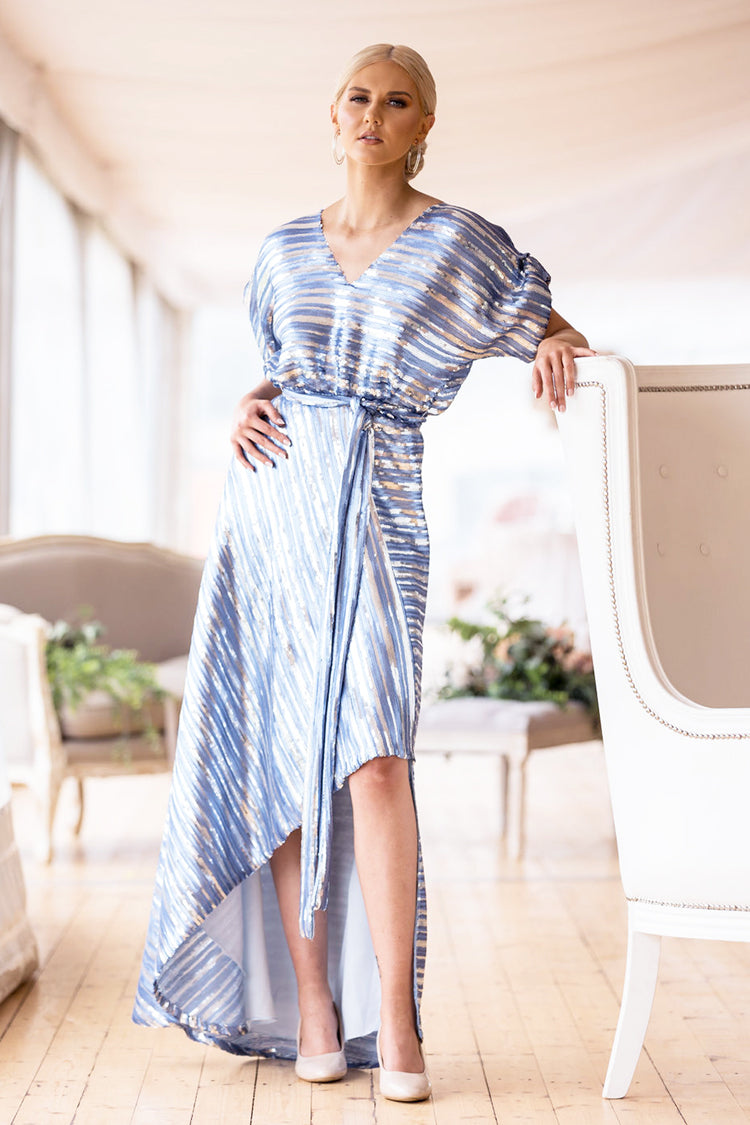 Kathryn Dress in Sky Stripe Sequin
Regular price
$1,119.00
/
Tax included.
---
*Free Australia express shipping
The Kathryn Dress in Sliver Sky Stripe Sequin with tucked sleeves by Lucy Laurita.
Set hearts on fire and enjoy the spontaneity of the glowingly chic Kathryn Gown. The unique, limited-edition fabric is a beautiful feature of this classic design by Lucy Laurita. Cut to elongate the bodyline with the stripes contouring the feminine shape, the subtle v neckline extends the torso, allowing to wear a pendant necklace if desired.
The pleated bubble short sleeve gives the wearer freedom to move with confidence. A sense of boldness yet timeless elegance with a swooping side leg split to show some leg with out baring too much.
Comfortable to wear with an elasticated waistline and a wrap around belt.
Lucy Laurita - Leiela pieces can be ordered in a variety of colours, fabrics and sizes.
Come in-store to try on / explore other colourways and styles.
Lucy Laurita designs are non-size restricting - they are carefully created to suit each individual. Our specialised customisation service is offered through our trusted boutique buyers and is our guarantee of confidence in purchasing our locally designed and made gowns.
Orders will take approximately 4 - 6 weeks to make the piece especially for you. Garments are designed and made in Australia. 

For more information regarding special orders and bridal enquiries please contact us on 1300 376 252 or email customerservice@frockaholics.com.au
Colours almost always available are black, navy, ivory and red. 
Colour chart available upon request with other seasonal highlight colours.
Specialises in bridal parties. 
Urgent orders

 

maybe

 

requested (Delivery within 2 weeks).

 

Surcharge

 

will apply.
Measurements may be supplied in order to customise your size.
Split sizes may also be ordered e.g. Size 10 bodice with size 12 skirt.

 

Surcharge

 

will apply.
Double

 

lining will incur a surcharge of $45. (Usually only necessary for light based colours such as white, ivory or nude.)
Gowns cut on the bias are designed to float over your body shape so individual length may vary slightly. As a guide our full length gowns are to floor length on heights of approx. 175 cm. If you are unsure if you require extra length to your gown please contact us. Surcharge

 

will apply.
About Lucy Laurita
From as young as I can remember, the vision of my mother will stay with me for the rest of my life. Unknowingly, it was the starting point of career as a fashion designer.
When you look at my collection you need to live the idea that together we have created a story. A story of a Melbourne fashion designer who has created and wanted all her life one single thing. Simple, classic, couture beauty.

Take a look at the collection and you will see in there the privilege of an education I received in design. It didn't stop there, some people think it is a child hood dream, some people think I would grow out of it, some people tried to convince me that I would grow out of it. It's interesting that sometimes I pause and think, and I want to tell you all I am proud and love where I come from.
Perhaps when I have the privilege of you wearing one of my wrap dresses, my beaded frocks, my scarves or any of my collection that you know I individually care.
Fabric
Sequin on Stretch Nylon Mesh
Care
Dry Clean Only.
*Free Australia Express shipping available for any order total $100+ at checkout.
Find out more information about Shipping.